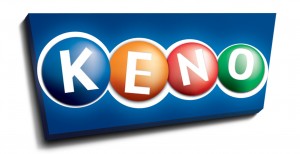 Keno is a lottery-type game so is also a game of luck. Players are attracted to Keno because of the chance of winning huge amounts of money with a small wager, just like many state lotteries. Most players don't have a winning keno system with the exception of choosing numbers that have some significant meaning only to them, such as ages or birthdays. There are a few keno betting systems that might lessen your odds of losing, but players must always remember that with a game of chance the odds of winning that huge jackpot is where only luck will intervene.
Keno systems: Martingale
The first system is called the Martingale System and is probably the most easy to follow and remember. This keno betting system basically is the double up method. For example, if a player bets a $1 keno ticket and loses, his or her next bet should be $2. If this bet loses, then the next wager would be $4. If the player hits the $4 bet, he will recoup his losses and more. A large bankroll may be needed for this system and the player must have patience as they may have to go through quite a few draws each time before they can profit.
Another keno betting system is called the "reduced betting system" where players choose a limited amount of numbers and play those numbers on three keno tickets. The player's odds of winning at keno are greatly increased when betting fewer numbers and this system is based on this concept. Players should pick six numbers, but each keno ticket played should contain only four of the six numbers chosen. This way each number is on two tickets each. If the player's numbers are drawn, this gives him the best advantage of winning on all three tickets.
Another system many players like to use is the way ticket. A way ticket is one where more than one set of numbers is played on the same game. A player might choose his favorite three numbers such as 4, 7 and 13 as a three spot, but also choose his children's ages for a five spot such as 8, 10, 12, 15 and 17. Players choose the amount they want wager on each way and now have two ways to win on the same game.
Based on mathematical probabilities and statistics, a player's best bet to win at keno is to play four to six numbers. But is it vital for players to keep in mind that there is no "guaranteed" system or method when playing keno and the odds of winning that enormous jackpot is almost virtually impossible.
Top 5 recommended Keno casinos:
[table id=3 /]