Baccarat is a card game that is very popular in the land based and online casinos. It is believed to have made its way from Italy to France during the 1400's. During the 1950s the game appeared in the United States through a man by the name of Tommy Renzoni. The game of Baccarat sees some changes depending on which country it is being played in.
However, the overall style of the game remains the same. One of the things many players appreciate about Baccarat is it still maintains that high class reputation it has carried with it throughout history. Although players from all walks of life may find the game appealing, it is most popular with the high rollers and players of high social standings.
Top 10 Recommended Baccarat Casinos: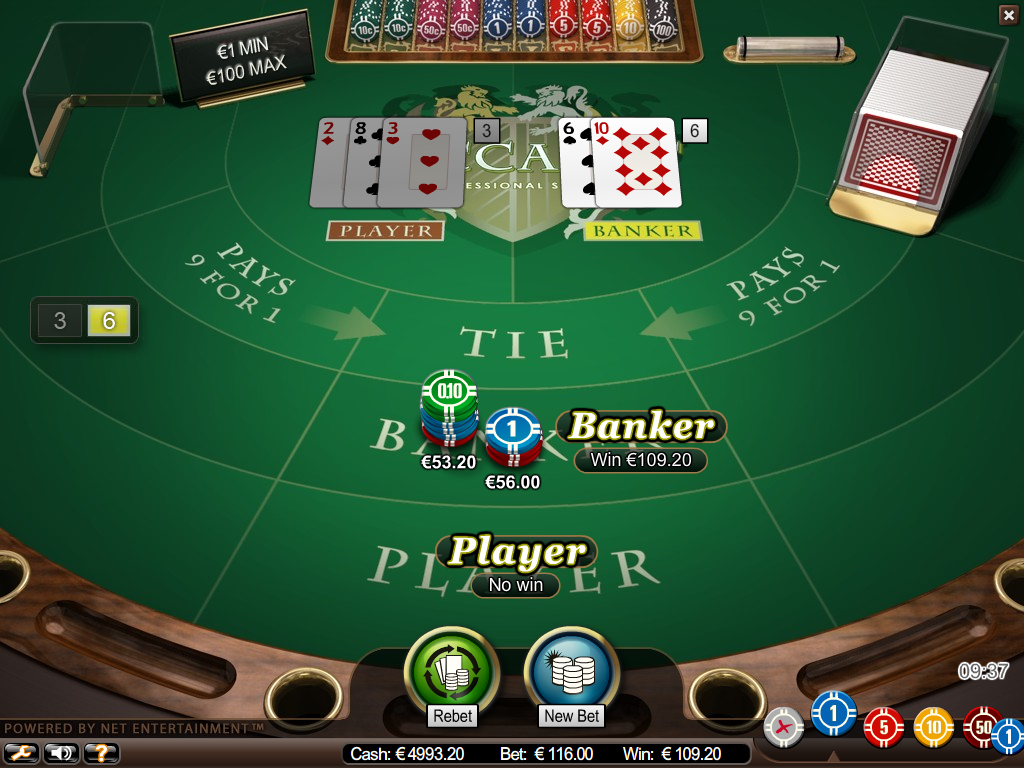 How to play baccarat
Baccarat is actually a fairly simple game to learn. The game begins with the dealer dealing out two cards to both the player and banker. These cards are all dealt facing upwards. The object of baccarat is to get the winning hand. Once the first two cards have been dealt the "call man" will point out who needs another card dealt their way. The player and banker will be competing to see who can achieve a hand that come the closest to totaling nine points.
A player must stand if their two cards total a 6 or 7. If they have two cards which total 8 or 9 they must also stand and this hand is referred to as a natural. The banker will play their hand according to how the players hand was played. If the player gets a natural then the banker does not draw. Should the player stand on 6 or 7, the banker will act in the following manner depending on what cards he has drawn:
If the banker gets 0 – 5 then he needs to draw a card. However, he will stand if his two cards total 6 or more. If the player needs to draw another card then the banker will always draw when they have 2 or less. The banker will also draw if he holds a 3 and the player gets an ace through 7, a 9 or 10. The banker will also draw if he has a 4 and the player gets a 2 through 7. If the banker has a 5 then he will also draw on the players 4 through 7. If the banker has a 6 then he will draw when the players 3rd card is a 6 or 7. The banker will always stand if his 2 cards total a 7.
How do you win at baccarat?
Once the hands have both been played the hand that is closer to the total of 9 will win and the winner will be paid out. In the case of a tie those who bet on a tie will be paid out. When a tie does occur, all the bets on the player and banker are considered pushes and no money will be lost.
How can you bet in baccarat?
When playing baccarat there are a few things that you should keep in mind that can help you out. When you play the game of baccarat you will have three ways in which you can bet. You can bet on the player hand and that holds a house edge of 1.29%. You can also bet on the banker's hand which holds a house edge of 1.01%. Then, there is the option of betting on a tie which holds a house edge of 15.75%.
When you look at this information it's easy to see why betting on the banker's hand is a good choice. Betting on a tie is something you should try to avoid doing. It may seem like only having one good bet you can make, the game is still a very entertaining one and it also has some of the best odds in the casino.
How much money do you wager in baccarat?
Another thing you want to focus on with regards to playing the game of baccarat is in regards to the amount of money you wager. Just be careful that you never wager more than you can afford to lose. A good money management system is the best thing you can do for yourself. You want to decide ahead of time how much you can afford to lose and divide your money up in accordance with how much you can bet each round. Also, you should decide ahead of time what percentage of your winnings you want to keep and what percentage you want to put back in the game. Money management will be very important in the game of baccarat.
Why should I play baccarat online?
Baccarat is a fairly straight forward game and this is one of the things that so many players like about it. The rules of the game simplify it. This is a game that can seem confusing at first, mostly due to the fact that new players will have more than likely not seen a game like it before. However, once they play it a few times they will have it down and many have found it to quickly become their favorite card game of all time. If you have been thinking of trying baccarat then you should follow through. You just may find that it will become one of your favorite card games as well.
Having a good strategy for casino games is something a lot of players focus part of their attention on. One example of a game a lot of players use strategy with is blackjack. A lot of players use card counting in blackjack. While strategy such as card counting can't be used in games like video poker, there are still strategies a player can use with video poker. However, baccarat is one of those games where players can't turn to strategy so much.
Baccarat is a game in which players don't have a lot of options available and the rules of the game cause the game to be run in a pretty automatic manner. Most systems out there are based on the player's previous hands rather than the hand they are currently working with and those are pretty much useless.