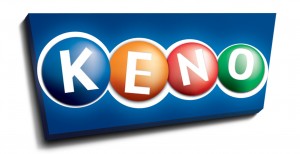 Keno odds vary according to the number of "spots " or numbers marked on a Keno ticket and to understand your probability of winning you must first understand how this game is played. A Keno ticket is made up of numbers from 1 to 80 with the casino randomly drawing 20 numbers. Players can pick any combination of numbers up to 20, but the odds of a player selecting all 20 numbers correctly on a keno ticket is colossal. Odds change with the number of spots marked and many players choose to pick anywhere from four to eight numbers.
Keno odds: Payout
The payouts vary from casino to casino but they will have a payout brochure available to players advising exactly what the payout will be with the number of spots marked. The payout table is clearly visible on the screen when you play Keno online. For example, if a player chooses to mark six numbers, or a six spot ticket, and the player catches all six numbers, he could win $1,500 for a one dollar bet. The brochure will also let players know the payout schedule for a lesser amount of numbers picked correctly. Using the six spot keno ticket as an example again, a player could see a return of $50 for catching five numbers, $8 for four numbers and win their $1 bet back with three numbers. Anything less than three numbers and you have a losing keno ticket.
Many players are lured by the huge payout for a minimal bet and make the mistake of playing a large amount of numbers. Players should review the payout schedule brochure at each casino before placing their bets. The odds of picking one number is 3 to 1; two numbers 15 to 1; three numbers 71 to 1; four numbers 325 to 1; five numbers 1,549 to 1; six numbers 7,752 to 1; seven numbers 40,878 to 1; eight numbers 230,114 to 1; nine numbers 1,389,686 to 1 and ten numbers over 8,900,000 to 1. The odds get higher and higher with each additional number chosen and players should remember this when playing Keno.
Keno is a game of chance and many players are attracted to the simplicity of the game and the huge payouts. So if you decide to play the game of Keno, pick your favorite numbers or your children's birthdays and try your luck, but remember that the more numbers your choose the higher the odds are for a winning ticket.
Top 5 recommended Keno casinos:
[table id=3 /]