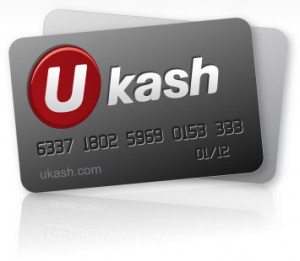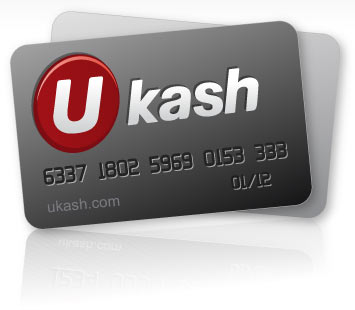 UKash provides customers a safe and easy alternative way to pay for goods online, including the online casino gaming industry. This payment method is operated by Smart Voucher Ltd and regulated in the UK by the Financial Services Authority. Many consumers use UKash that want to deal in cash only. There is no need for credit cards or debit cards and no personal financial details. UKash is simple and easy. All players need to do is pay cash to get a UKash voucher at any retail store outlet, online, ATM's or kiosks, direct to mobiles or wherever vouchers are sold. You will receive a voucher with a 19-digit UKash Pin and you can then use the unique voucher to pay for goods online or deposit funds into your favorite online casino account. There is no waiting for a card in the mail or lengthy registration, getting UKash is instant and works just like cash.
UKash is sold in different denominations and players can hold up to five UKash voucher codes on any one day with a value of $500 each, or $2500 UKash vouchers at one time. Consumers get cash back if you spend less than the value of the voucher and can even combine multiple values, always receiving a new 19-digit Pin. All vouchers are good for one year from the purchase date and each voucher will have an expiration date. It also offers players the options of a UKash NEO card which is a virtual prepaid MasterCard or a UKash OUT Prepaid MasterCard which is a physical card that can be used to withdraw cash at ATM's, or spend in stores wherever MasterCard is accepted or online. UKash also gives online casino players the option to withdraw winnings to an internationally recognized UKash voucher instantly. There is no need to wait for a check in the mail or bank transfers. UKash withdrawals are safe, easy and fast.
UKash is simple and easy
Online casino players will find it simple and easy to use. Many casinos accept this payment method and all players need to do is go to the cashier and pick the UKash logo and enter the unique 19-digit UKash Pin number and instantly be playing all their favorite online casino games.
There are many advantages to the this payment method. Online casino players can use Ukash as a deposit and withdrawal method and payment is instant. There is no need for credit cards, debit cards or bank accounts. Consumers deal in cash only, so no card or bank numbers are ever given to any merchant or online casino. Players also feel confident knowing they are only spending the cash they have and not going into debt. UKash is a convenient, reliable, and trusted online payment solution.
Top 5 recommended casinos:
[table id=3 /]