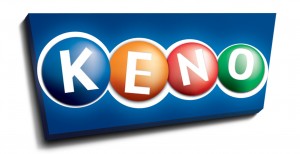 Keno is rich with history originating in ancient China. It is a game like the lottery and the rules are quite simple and easy. On land based casinos a customary keno lounge provides players with keno tickets and crayons to mark their spots, or numbers. A keno ticket is usually numbered 1 through 80 and in the majority of casinos the minimum bet is usually one dollar. Players can pick one number or up to twenty numbers, although this can vary between casinos. Players will write the number of numbers chosen and the amount of money he wishes to wager on the side of the keno ticket. Players then take the ticket to the counter and the keno writer will give them a duplicate copied ticket. When the game is marked closed, the casino will randomly draw 20 numbers that will be displayed on the keno board or on numerous televisions screens throughout the casino.
There are also "keno runners" throughout the casino that will take your bets up to the keno lounge and bring back your duplicate copy ticket and even collect your winnings. In the past, players use to have to collect their winnings immediately after each draw. Today players can play up to 1000 games at a time and have up to one year to collect their winning keno tickets, although this varies from casino to casino. Payouts also vary from casino to casino so players need to review the payout schedule brochure before deciding the amount of numbers they wish to bet and the amount they want to wager.
Keno rules: slots
There are also numerous keno slot machines throughout casinos. Many players prefer this method as the payouts are available right on the video screen and the results are instant. All players have to do is deposit coins or use a paper voucher, choose their numbers and press draw. A random number generator draws 20 numbers and players know the outcome within a few seconds. Players can of course change their numbers or let the slot machine pick their numbers. Many online casinos also provide the game of Keno to players. This game is much like the video slot machines in casinos in that payout tables are right on the screen and draws are immediate.
Keno rules are simple but vary from casino to casino. Players are encouraged to read the published keno booklet at each casino for their payout schedule and to make certain they know when their keno ticket expires and is uncollectable.
Top 5 recommended casinos:
[table id=3 /]