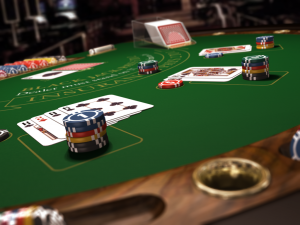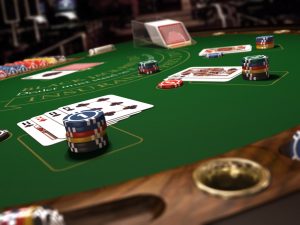 Learning how to play the game of blackjack is not a complicated task as the basic game is quite a simple one. The importance of understanding the blackjack rules before beginning to play cannot be stressed enough.
The aim of the blackjack game is to obtain a final card total of as close as possible to 21. It is vital not to exceed this number as this brings about an immediate loss of the game.
Within the rules of blackjack, first of all comes betting on the game. Two cards are then dealt to each participating player. The dealer is part of the action and also receives two cards, one that is shown and one that remains face down. The player is actually competing against the dealer and tries to achieve a better hand than the dealer's hand. Each player then decides whether to receive more cards or to stand and stay with the two initial cards dealt, bearing in mind the objective of reaching a total close to twenty one.
It should be noted that face cards are valued at ten in the game of blackjack. An ace may be valued at one or eleven according of the choice of the player. Before making the decision regarding the choice of more cards it is worth taking into consideration the following. In the case that the dealer's hand contains a card total of below sixteen, then the dealer has to continue to hit. In other words, this means to receive another card. In the case that the dealer's hand contains a card total of seventeen or above, the dealer needs to 'stand', to remain with these cards and will not get additional cards in this game.
Once the player decides to settle with the cards in hand and stand then the dealer's previously undisclosed card is shown. The one that holds the card hand total that is closest to 21 without exceeding this number is determined as the winner of the game.
It is worth noting that the suit shown on the card has no relevance to the game.
A blackjack is a card combination of an ace together with a card valued at ten. This card hand total of 21 is created out of two cards only. Although a card total may be made out of more than two cards and may still produce a win, this is not referred to as a 'blackjack'. The difference is relevant for the payout odds and gaining a blackjack is the best way to win.
Even though this does not happen very often, it is possible that a tie may occur. In such an event, the player receives back the amount of the initial wager.
Learning the rules of the game of blackjack before starting to play is an important part of the game.
Top 5 recommended Blackjack casinos: